THIS IS A NIGHT NOT TO BE MISSED!
Denise will be launching her 2020 tour at London's Royal Vauxhall Tavern on Novermber 22nd. This iconic gay club has hosted some of the biggest names in show business. Denise is thrilled that she can bring the Music Of Judy Garland to fans old and new. The club are offering discounted ticket prices and limited raised seating. The seating area is a slightly higher price with meet and greet included. You will be able to meet Denise and have pictures taken with her. Iconic is a word that is often thrown about but in this case there will be three in one night - The Vauxhall - Denise and Judy. We hope to see you there!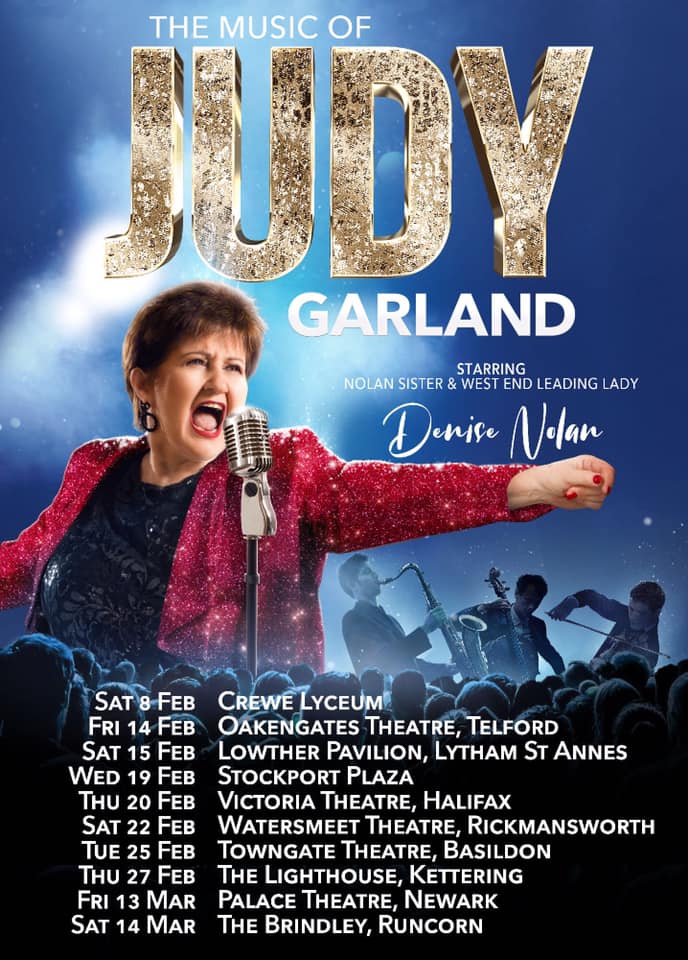 SATURDAY 8th FEBRUARY - CREWE LYCEUM THEATREFRIDAY 14th FEBRUARY - PLACE THEATRE - TELFORDSATURDAY 15th FEBRUARY - LOWTHER PAVILIONWEDNESDAY 19th FEBRUARY - STOCKPORT - PLAZA THEATRETHURSDAY 20th FEBRUARY - HALIFAX - VICTORIA THEATREWATERSMEET THEATRE - RICKMANSWORTHTUESDAY 25th FEBRUARY - BASILDON - TOWNGATE THEATRE THURSDAY 27th FEBRUARY - KETTERING - THE LIGHTHOUSEFRIDAY 13th MARCH - NEWARK - PALACE THEATRE
VENUE LINKS TO PLAN YOUR THEATRE VISIT. ONLINE BOOKING WILL APPEAR HERE THE MOMENT EACH VENUE STARTS SELLING TICKETS.
SATURDAY 8th February 2020
FRIDAY 14th February 2020
SATURDAY 15th February 2020
WEDNESDAY 19th february 2020
THURSDAY 20th February 2020
SATURDAY 22nd February 2020
TUESDAY 25th February 2020
THURSDAY 27th February 2020