LINDA TO APPEAR ON SHOCKING TV MOMENTS 28th DECEMBER

Born on February 23rd 1959, Linda has packed a lot into her professional life. Her career has seen her embrace TV, Cabaret, Concert, Pantomime and Stage Musicals. She began singing aged just five. Working with the Family singing act "The Singing Nolans". The five eldest Sisters formed the 'The Nolan Sisters in 1974. Along with Anne, Maureen, Bernie and Denise she went on to achieve stardom with hit records, tours and TV appearances. Perhaps the pinnacle of that stage in her career was to appear on tour with Frank Sinatra. Linda left the Nolans in 1983 and quickly joined Gene Pitney as his special guest in his 1984 UK tour. Her first TV appearance as a solo artist was on the Des O'Connor show where she performed the song "Dancing In The Street". She went on to star in Pantomime in Coventry later that year. She has since gone on to become a panto veteran. Highlights of her career include Theatre Tours with Vic Reeves and Bob Mortimer in 'Shooting Stars' as well as touring with Mike Yarwood, Cannon & Ball, Little & Large & The Grumbleweeds. She joined Bobby Crush on the 'Back To Bacharach' tour. Her first venture into musical theatre came when she played Prudie Cupp in 'Pump Boys & Dinettes' with Rose Marie. Two UK tours of 'Prisoner Cell block H - The Musical' with Lily Savage (Paul O'Grady) followed.
The eighties and nineties and Blackpool became synonymous for her when she starred in her own headline show ' Maggie May' on the town's Central Pier for eight years, before transferring the show to the South Pier for a further two years in the renamed "Rosie O'Grady's All Star Music Show'. Having completed more than a thousand concerts in the two roles she went on to cabaret for the following year at a Working Man's Club. Just a short time later, Linda successfully auditioned for the lead role in Willy Russell's acclaimed musical 'Blood Brothers'. She toured in the production and appeared in London's West End for eight years. Linda was diagnosed with Breast Cancer in 2006 and bravely continued with the show until ill health forced her out of the production. She was widowed in 2008 and there followed a long period of depression. She contacted The Samaritans organisation who helped her through the difficult time and has since gone on to become an ambassador for the charity as well as fostering children. The Nolans reformed in 2009 for controvertial, sell out concert tour, a CD and a DVD was released. Two of her Sisters were left out of the tour and a family argument resulted. The fall out from the row lasted for several years before it was resolved. In 2014 Linda entered The Celebrity Big Brother House. Her stay in the house was marred with arguments she had with an old adversary, Jim Davidson. She became the fifth celebrity to be evicted. from the house. Despite her eviction she was never nominated for eviction by other housemates, who had nicknamed her "Mamma Lin." She later commented that she loved her time in the house and would return 'in a heartbeat'. She lamented that she had been seen as a "Moaning old bag." but had, in fact, been part of a much happier environment which had not been shown on TV. Linda joined the cast of of 'Menopause The Musical'. Initially touring Ireland in 2015 and then on another tour the following year. The show transferred to the UK the following year. She was cast as 'Soap Star'. The show plays to packed houses nightly with parodies of well know pop songs. The lyrics were adapted to cover aspects of the menopause such a hot sweats tears, mood swings and tempers. In 2016 she joined 'Rumpy Pumpy' a UK musical based on the true story of 2 Women's Institute members who campaigned for better working conditions for sex workers. Linda played Madame Holly Spencer, the brothel owner. She show had a short run which she enjoyed immensly. Linda then starred in her annual Pantomime, this time at Preston Guild Hall as the Fairy in 'Jack and The Beanstalk' Linda has appeared in more than 20 professional Pantos and loves the role. In 2017 Linda was set to star in 'Our House The Musical'. This show covers the music of 80's favourites 'Madness'. Sadly her cancer was found to have returned following an accident at home. Tests confirmed that the cancer was incurable, although it it treatable. She has been filming for TV shows and has other work lined up outside her normal touring work. Check out our site for news that arises. Her Autobiography 'From My Heart' was released in March 2018. Linda had to withdraw from ITV's My Shirley Valentine Summer, which was disappointing for her. But she was soon back on our screens when she began appearing as a regular on the Loose Women panel in Summer 2018. Her cancer prognosis is looking bright as she undergoes regular scans, the cancer seems contained.
LINDA'S CHARITY WORK NEWS
LINDA is a major charity contributor. Her charity work blossomed when she was diagnosed with breast cancer in the mid 2000's. She underwent a mastectomy and chemotherapy. After being given the all clear she had a breast reconstruction. It is well documented that Linda has suffered with depression which is understandable. She lost her husband to the disease and her sister Bernie passed away in 2013. She is heavily involved with the charities.
*HUG IN A BAG * ASDA'S TICKLED PINK * BREAST CANCER CARE* BLACKPOOL TRINITY HOSPICE * THE SAMARITANS * SHARON FOX CANCER CENTRE * VARIETY CLUB CHILDREN'S CHARITY.
Linda announced, via her Sister, Coleen on ITV's 'Loose Women' that her cancer had returned.
NEWS UPDATES
LINDA IS UNDERGOING TREATMENT FOR HER CANCER. Meanwhile, life goes on! Keep checking our site for the very latest Linda news.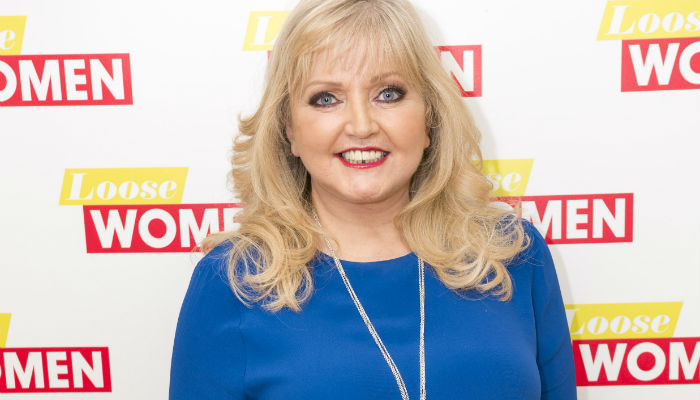 LINDA'S IS NEXT ON TV ON SHOCKING TV MOMENTS IN DECEMBER
LINDA'S OFFICIAL WEBSITE
Linda has an official website that occasionally updates visitors with her news. The site features video content, a gallery and selected biography. On her site you will find features about her career including a special page dedicated to her long running role as Mrs. Johnstone in Willy Russel's 'Blood Brothers' There are pages that pay tribute to her late Husband, Brian, and her beloved Sister Bernie. As Linda now concentrates heavily on her charity work, special mention is paid to that.

The site is not responsive and does not have a mobile version. As it contains videos music and photographs, we recommend that you view it in a wi fi area or that you have adequate data allowances on your smart device.