COLEEN RETURNS TO LOOSE WOMEN
Coleen is the youngest of the Nolan Family and the only member to be born in the UK. She was born on 12 March 1965. She has been singing since she was two years old. She appeared with the Singing Nolans act and regularly sang in Blackpool Working Men's Clubs. As a seven year old Coleen made her debut in the reocording studio. Coleen, along with the two Nolan Brothers, Brian and Tommy decided against joiing the Nolan Sisters when they moved to London. She preferred being in Blackpool with her pony. Coleen appeared with her Sisters on TV in 1974 as a guest star on the entire series of "It's Cliff". when she When the Nolan Sisters toured with Frank Sinatra she chose not to meet the man himself, something she now regrets. She recorded a solo single in 1976. Something she is claims now was embarrasing. Coleen joined her Sisters in recording their 1979 album ' The Nolan Sisters' Sadly she didn't add any vocals to the most famous Nolans song of all - 'I'm in the mood for dancing'. She did however appear in the promotional video.The Nolans were at the end of their 1980 Summer Season in Blackpool. Anne had decided to retire from show business and was heavily pregnant. Part of their act was a a cappella version of the haunting Cliff Richard song 'Miss You Nights'. Anne sand lead on the song and broke down in tears as the realisation that she wouldn't be singing with her Sisters again. Coleen was watching the show from the wings and in a tender moment of Family unity, walked on the the stage and completed the number for Anne. The spectacle brought the house down and there was barely a dry eye in the house. Coleen became a fully fledged member of the act in 1981. She was a regular, recording, appearing on TV, concert and cabaret until 1994 when she decided to retire from entertaining. She had visited Japan many times and had earned gold, silver and platinum records. The Nolans had recorded a new version of their signature tune and Coleen decided to come out of retirement and help make the song a hit. In 1996 Coleen had all but retired from performing and had taken a day job in a health food shop. She had two children from her then partner Shane Richie - Shane Jr was born in 1987 and Jake came along in 1992. Following her marriage breakdown she appeared on Trisha Goddard's 'Celebrity heartaches' it was a success making the National press. Following on from that she was offered a job as a panelist on the fore runner to Loose Women - 'Live Talk' after this her career rocketed when she was made the main anchor ITV's flag ship daytime show "This Morning" with 1960s super model Twiggy. Sadly the critics were harsh - reserving their harshest critisism to Twiggy who was promptly axed. Coleen worked alongside seasoned pro John Leslie for a further six months. Ratiing had improved and Coleen's job looked secure. Fern Brittan came back to work following maternity leave. Coleen was then shunted to 'Special Features Reporter' this was not for her and shortly afterwards she left the show. Coleen made appearance on shows including 'Never Mind The Buzzcocks' 'The Wright Suff' and 'Celebrity Juice'. Shortly after this she was inited back to 'Loose Women' here she proved to be instantly popular. Over the next few years Coleen became the darling of the press with almost every magazine featuring her. As someone who has battled with weight issues most of her life took to fitness and stunned people with her slimline figure. A fitness DVD followed and a second one much later. Appearances on 'This Morning' also followed when she presented their hub section. Coleen put pen to paper and has published her autobiography twice. She has also written two novels. In 2009 four of the Nolans reformed to record an album and star in a reunion tour. The tour was recorded and a live version of the show was released on DVD. The Nolans collaborated to release a book "Survivors". Coleen surprised many people when she entered the 'Celebrity Big Brother House' in 2011 she lost out of the top prize when she was runner up to Julian Clary. Coleen suffered a meltdown when Julie Goodyear had manipulated a situation that brought turmoil to the house. Goodyear's scheming was unearthed and shortly after she was evicted. Coleen then turned her attention to Panto. Something she had avoided for her whole career only trying it once. She starred as the Fairy Godmother at Liverpool. She agreed to compete in the ITV smash hit "Dancing On Ice" she was not gifted as an ice skater but managed to make it to the quarted final. A combination of good humour and likeability helped secure her votes rather more than her ice skating. Coleen later went on to co present the show a year later when it's main presenter Chritine Bleakley fell ill for one episode. She was invited to make a series for Sky TV which investigated Women's health an beauty. Coleen has, for many years, been the Agony Aunt for the Daily Mirror. She announced she was leaving both 'Loose Women' and 'This Morning' and found herself as a regular on 'The Alan Titchmarch Show' where she offered advice in an Agony Aunt segment of the show. Coleen was tempted back to the main panel of 'Loose Women' and Coleen has now expanded her role to be both panelist and regular main anchor. In 2017 she re entered the 'Celebrity Big Brother' house. The show pitted new housemates against several 'All Stars' she had several break downs and became a firm favourite with viewers. On the evening of the final she won the show beating Jedward into second place. She had clashed in the house with celebrity cleaner Kim Woodburn who went on to lambast Coleen claiming that she was not a worthy winner. Woodburn had argued with almost everyone in the show. Coleen appeared on the TV show 'In Therapy' the show was aired whilst Coleen was locked in the Big Brother House. She detailed how her second marriage to musician Ray Fensome was in trouble, something she had disclosed to her fellow panelist and the public on 'Loose Women'. In 2017 Coleen starred with BIlly Pearce in Bradford reprising her role as Fairy Godmother at the Alhambra Theatre in the city. In 2018 Coleen announced that she was divorcing her second husband, Ray. Watch this space for a major project Coleen will be taking on later in 2018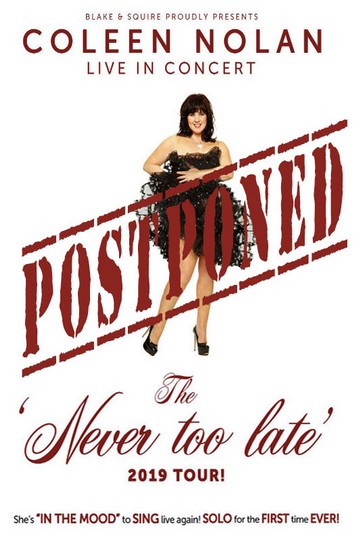 STATEMENT FROM COLEEN NOLAN
Following the constant online bullying, trolling, and misrepresentation of her words, actions and re-actions, it is with sad regret that Coleen is taking an immediate hiatus from all her current commitments including Loose Women and postponing her Never Too Late solo concert tour.
Coleen has spent 50 years in show-business and 18 years as one of the most loved members of the Loose Women panel, and has never been subjected to such a horrifying torrent of online abuse or such a heart-breaking attack on her reputation.
Coleen is devastated to let her supporters and fans down, but is currently not strong enough to withstand this constant and unfounded online abuse, so she will be taking time out and spending it with her children and family where she feels loved and respected. She sends her love to everyone who has supported her and knows who she really is and plans to return when she feels stronger.
If you have booked tickets for the 'Never too Late' tour, please speak to the venue box office in question for further in
Coleen Nolan has taken a break from Loose Women. One of the show's anchor women, Kaye Adams said
"Coleen is taking a bit of timeout from Loose Women.
We all just want to send her our love and our very best wishes. Coleen is a brilliant Loose woman and we really hope to see her back here very soon indeed.'
We will add any updats as and when they arise.
COLEEN'S OFFICIAL WEBSITE
Coleen has an official website that occasionally updates visitors with Coleen news. The site features video content, a gallery and selected biography. Theres is also a timeline of her career. A shop portal where you can purchase via Amazon, Coleen related DVDs, CD and books. The site is not responsive and does not have a mobile version. therefore we recommend that you view it in a wi fi area or that you have adequate data allowances on your smart device.
APPLY FOR AUDIENCE TICKETS FOR LOOSE WOMEN HERE
TICKETS FOR LOOSE WOMEN ARE LIMITED TO APPLY CLICK ON THE LOGO ABOVE
Please be aware tickets may not be available to everyone who applies. The successful applicants will be randomly selected from those who have applied for their tickets by email. Other applications will remain on the waiting list in case of returns. Once the tickets are all issued for a given date, the date will show on the Loos Women website as 'waiting list only'. So that you will know that the tickets for that date have been allocated and you would then be in the waiting list for returns.

They ask everyone who receives tickets to let them know if they cannot attend. They can then pass these on. SRO do not email those who have been unsuccessful - they may get returns later - Returns can come in at any time so you may be successful later if someone else returns their tickets. If you are not successful, then SRO will add your details to their mailing list.
*Please remember that tickets are free, there is no charge to join the mailing list or to apply for tickets, and they try to accommodate everyone who attends, but tickets do not guarantee entry.
*Repeat applications for any given date will be discounted so applying more than once for a particular date will not increase your chances of gaining a ticket.
*If you do not receive tickets, They simply may not have space to offer a ticket to everyone who applies for this event.
*You may be asked for photo ID when you arrive at this event. Tickets are not transferable so please ensure that the person applying for the ticket will be attending as one of the ticket holders.
*Repeat visits are welcome.
*In addition to the usual live shows, on Fridays 31st March & 7th April at 4pm in the afternoon, they will be pre-recording an episode that will be transmitted later.
CLICK THE LOOSE WOMEN LOGO BELOW TO APPLY FOR TICKETS