It's full steam ahead for Denise with the release of her new album 'For You My Love' which sees a general release in February next year. The release is timed to coincide with Valentine's day and is a beautiful collection of love songs and standards.
For You My Lov
e
follows on from Denise's hit single,
Every Time We say Goodbye
which was released in November this year. That single reached as high as number three in the iTunes jazz chart. This album features lush orchestrations which have become a trademark for Denise. The album will be available to pre order from this site.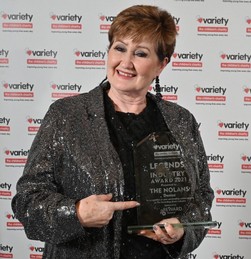 DENISE & SISTERS AWARDED VARIETY CLUB OF GREAT BRITAIN
INDIVIDUAL NOLANS PAGES & BERNIE MICRO SITE