BERNIE NOLAN - A SISTER'S TRIBUTE
My Second youngest sister, Bernie passed away on 4th July, 2013.
She was 52 years old, mother to Erin, aged 14, beloved and cherished wife of Steve Doneathy, adored daughter of the late Tommy and Maureen Nolan, sister of Tommy, Anne, myself, Maureen, Brian, Linda and her younger sister Coleen, plus, countless nieces, nephews, great nieces and nephews, cousins, and a beloved niece herself, especially of Aunty Teresa.
She had an incredible zest for life that never waned. From the time she entered a room till the time she left, you would remember her presence.

She was the smallest born in the family and remained so throughout her life, but had the strongest personality to make up for it.
As a baby we were very close. I was her chief babysitter. She was like a little doll, and loved

everyone and they in turn loved her.
I thought she might have grown up to be a teacher as she liked nothing better then playing at being one. I would hear her each day in the bathroom telling her pupils off. Come to think of it, it's probably best, she, instead became an entertainer as I only ever heard her

giving lines and detention and even the cane to pupils in her imaginary school. They never seemed to be learning anything!!

If I had one reason to resent her as a child, it was when she was two, ( yes, I said two) , we both entered a talent competition. I was 11. I never got past the preliminary rounds, she won it!!! She was dressed in a trouser outfit and a bowler hat and sang 'Strollin'. Word perfect and perfectly in tune!! Her prize was a gold watch. She was not impressed with this, however, and gave it to my Mum for 5 pence. Money for sweets was far more important to a two year old, than a watch!!!
As an adult, she did like a drink or two and at many a party I would try and creep off to bed totally done in and rather inebriated at about 4am, only to hear her voice telling me to get back and dont be such a party pooper. In fact, the only time I ever heard her sing badly was at a family karaoke after a few vodka's, it never seemed to matter, then.
She was an incredibly loyal friend and gained many friends over the years, and they in turn remained loyal to her throughout her life. That is the measure of the person she was.
Her talent of course, is history. But, I do remember the one time I thought she had pushed it too far and would embarrass us all, was on Popstar to Operastar. I was prepared to cringe as our Mother was a incredible soprano and when she was ill, it was I or Anne took over for her. I never knew Bernie possessed that voice. Should have known.!!
She never once did anything in showbiz that wasn't amazing and continued to make us all so proud in her chosen profession.

Two days before we lost her, the cast and musicians from the musical Chicago, the show she enjoyed touring with so much, turned up at her home in Weybridge, to surprise her, and came into the room singing Razzle Dazzle Em, and stayed to perform several songs for her. I said to her the next day, one thing you have to know, is how much you are loved.
Even in indescribable pain and discomfort, she could still make us laugh, she would crack jokes about how gorgeous and sexy she was, and still kept apologising, kept calling herself a dick whenever she made a text mistake or repeated herself. (WITH A BRAIN TUMOUR as well as her other cancers, VERY UNDERSTANDABLE!!!)
She never gave up and made plans for her own birthday in October. The words 'Never Say Die' were written for her!!!

Now she has been taken from us. The tour de force that she was, has gone. We can only keep our memories of her alive in watching her numerous TV shows and family videos and photos and in her proudest achievement her beloved daughter, Erin.
She always said, "No matter what happens I have had an amazing life" and her husband Steve must play the major part in that. he made her very happy. I have seen her suffering first hand and his incredible ministering to her needs in the past few months was inspirational. Although there will be times when he will think that he should have done more, - that is inevitable, and a part of the grieving process - he has nothing to reproach himself with, she sang his praises every chance she got and he probably was instrumental in her hanging on as long as she did.

To Erin, how she loved you. She was a great Mother and the best way for you to thank her for that will be, for you to be the best person you can be. Make her and your Dad proud and that alone will have made her life worthwhile.
If Bernie had ever questioned how successful her life had been and I'm sure she didn't,

There's a quote in the classic James Stewart film, A Wonderful Life. (A favourite of Bernie and Steve's) it says,

'No man, (or Woman in this case) is a failure, who has friends.'
As We've seen in the past few months, Bernie, you had no need to worry.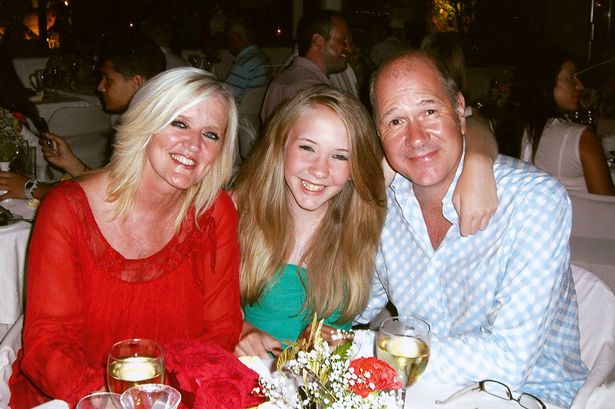 BERNIE NOLAN INFO
Bernadette Therese Nolan (17 October 1960 – 4 July 2013) Irish born actress, singer and television personality, formerly the lead vocalist of the girl group the Nolans. She was the second youngest of sisters Anne, Denise, Maureen, Linda and Coleen. From the age of two, she was brought up in Blackpool, Lancashire, England.
The Nolans began in 1974 and went on to have several UK Top 20 hits, including
I'm in the Mood for Dancin
g (1979),
Gotta Pull Myself Together
(1980) and
Attention to Me
(1981). The Nolans won the 1981 Tokyo Music Festival with
Sexy Music
. Bernie left the group in 1995 to become an actress. On television, she had roles in the Channel 4 soap opera
Brookside
from 2000 to 2002 and the ITV police drama
The Bill
from 2002 to 2005. while her numerous roles in stage musicals included Mrs. Johnstone in
Blood Brothers
(1998–2000), Hannah Owens in
Flashdance: The Musical
(2008–2009) and Mama Morton in
Chicago
(2012). She was also a member of the Nolans line-up that reformed for a successful tour of the UK and Ireland in 2009. She died from breast cancer in July 2013.
Bernie's parents were Tommy
and Maureen Nolan.
The Nolan family moved from Dublin to Blackpool in 1962 and began performing as the Singing Nolans.
In 1974, the sisters formed the Nolan Sisters, later shortened to the Nolans, and made their TV debut that year on Cliff Richard's show,
It's Cliff Richard
. In 1975, they supported Frank Sinatra on his European tour. In 1979, they released their biggest hit
I'm in the Mood for Dancing,
which reached number three in the UK and was the first of several major hits. Other were
Don't Make Waves
, (1980)
Gotta Pull Myself Together
(1980),
Who's Gonna Rock You
(1980),
Attention to Me
(1981),
Chemistry
(1981) and
Don't Love Me Too Hard
(1982). The Nolans sold millions of recordings worldwide, particularly in Japan where they sold over ten million albums and won the 1981 Tokyo Music Festival with the song
Sexy Music
. Bernie also composed songs during this time, when she wrote two tracks for their 1982 album
Portrait
. In 1991, they won the Planning award (企画賞,
Kikaku-shō
) of the 33rd Japan Record Awards for Cover version of Japanese pops.
As a member of the group she recorded more than 30 singles, 25 albums and throughout her career more than 40 Nolans compliation albums have been released. Her career with the Nolans saw her tour the world several times. The group starred in Summer Season productions in major venues for many years. Bernie also took part in over twenty professional pantomimes. Her TV career as both a solo artist and as the Nolans spanned almost 40 years seeing her star in almost every major variety show in the UK, including four TV specials of their own.
Bernie first acted as a cast member on the BBC Saturday morning children's show
On the Waterfront
. Critics positively reviewed her gift for comedy. The Nolan sisters and their music were a running gag on the show, she was joined by her sisters for a musical performance during at least one episode. She left the group in 1995 to concentrate on her own acting career, which began with her 1993 performance in the stage play
The Devil Rides Out
. She played Mrs. Johnstone in Willy Russell's
Blood Brothers
in the UK tour for over two years. She was the first of four Nolan sisters to have played the role, being followed by Denise, Linda and then Maureen. For this, the sisters earned a place in the Guinness Book of Records as the most siblings to play the same role at different times in a professional production.
In 2000, Nolan joined the cast of Channel 4's soap opera
Brookside
as Diane Murray after being noticed by Paul Marquess whilst starring in
Blood Brothers
. It was during this time that Bernie recorded a song that was to enter the UK heat in the Eurovision Song Contest. The song reached the final selection. Bernie was refused permission to take time out from her Brookside role to appear in the Eurovision Song Contest had she been successful. Her song was then sung by another performer who was ultimately selected as the UK entry. The song went on to secure the best UK result in 15 years and the record has still not been beaten. She left in 2002 to play Sheelagh Murphy in ITV's police drama series
The Bill
, which she starred in until 2005. Other roles included Maria in
The Sound Of Music
,
Bernie was a regular contributor to the Wright Stuff and Loose Women, she made many appearances on the chat show circuit including Alan Titchmarsh Show, Richard And Judy, This Morning, The One Show, Des & Mel and Never Mind The Buzzcocks. She was runner up in the hit show Stars in Their Eyes where she sang 'Not That Kind Of Girl' as Anastasia.
In 2006, Bernie took part in Channel 4's series
The Games
. Her stint on the game was to raise money for charity, including Alzheimer's and children's charities. In 2007, she starred in the play
Mum's the Word
, playing the character 'Robin' which she reprised in the 2008 tour (alongside her sister, Maureen who played Jill) and once again in 2010. She played a series of concerts in Blackpool in 2006 and returned the following year for a summer season in 2007, appearing at the Blackpool North Pier Theatre in her own production, Soap Queens (And Kings!)
.
In 2008, Bernie appeared in the UK touring production of
Flashdance the Musical
for over a year, playing Hannah Owens.
In January and February 2010, she participated in the ITV celebrity reality television programme
Popstar to Operastar
, reaching the final. In 2011 she joined the cast of 'Calendar Girls' for the national UK tour. In 2012, she appeared as Mama Morton, in the UK tour of the musical
Chicago
.
Bernie released the single
Macushla
in 2004 with the proceeds going to charity. It peaked at No. 38 in the UK Singles Chart in March 2004.
Regarding this release, Lorraine Kelly wrote: "I wouldn't have expected anything else from one of the hardest working women in showbiz". In 2005 she released her debut solo album
All By Myself
. The album consists mainly of power ballads, including the song "Better Place", written by her husband in memory of their daughter, Kate, who was stillborn in 1998.
In 2009, four of the Nolan sisters, Bernie, Coleen, Linda and Maureen, reformed for a successful 23 date tour of the UK and Ireland. To coincide with the tour, they released an album,
I'm in the Mood Again
, which reached No.22 in the UK Album Charts.
Bernie Nolan married drummer Steve Doneathy in 1996, in Lancashire. The couple lived in St Anne's on Sea, Lancashire, and then in Surrey.She
had a daughter Kate, who was stillborn in 1998 and another daughter, Erin in 1999, who was 14 years old when Bernie died in 2013. Bernie had
Illness and death
It was revealed on 23 April 2010 that Bernie was suffering from breast cancer.
In October 2010, she stated that she was cancer-free after having undergone chemotherapy and a mastectomy, and was taking herceptin.
In February 2012, she announced that she was no longer taking cancer treatment drugs, and was completely free of cancer.
At the end of October 2012, Bernie announced that the cancer had returned and had metastasised to her brain, lungs, liver and bones.
Bernie died in her sleep, at her home in Surrey, on 4 July 2013, aged just 52.
Her funeral service was held on 17 July 2013 at the Grand Theatre, Blackpool and she was later cremated at Carleton Crematorium. Her ashes were then buried alongside those of her stillborn daughter.