NEW TV SHOW TO AIR DECEMBER 2nd 2020
The four part series features Denise and will air on Quest Red
Fantastic news from the Nolans!
The album also reached number one in the AMAZON chart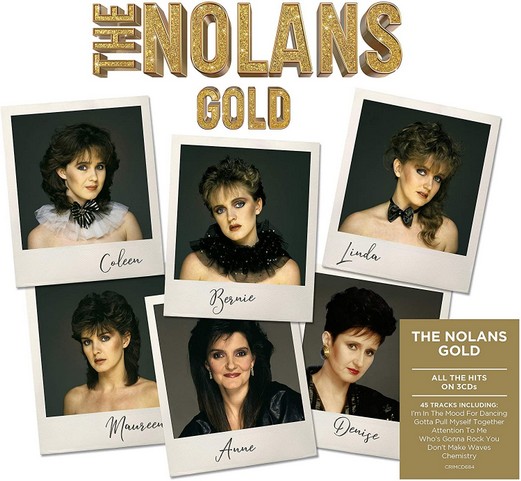 The Nolans (Including Denise) will have a new compilation released in October - The 23rd to be precise. You can pre order now from Amazon at the ridiculously low price of £5:99. The album is a three disc retrospective of the girls' recording career with Target and Epic - The first time that these tracks have all appeared on an album. The CDs are beautifully packaged. We recommend the CDs as they are so attractive. Although all the tracks are available as a download album.
There are two TV projects coming up - both with scheduled transmissions for 2020. As soon as we can share the information we will.
Details of the show are on the poster. Denise has agreed to take part in the show - We are not sure if any of the other girls are going to appear or not. Linda is away touring as is Coleen I believe. As soon as I get to know more I bring you the details.
The tour is heading to Stockport tomorrow for its next show. Denise had a fantastic response to the shows at Crewe and Lytham. On both occasions she received a standing ovation. Reviews have been positive and Denise is enjoying the experience.
Denise was mentioned on the BBC News channel today, discussing her recent interview with the Daily Express. The story can be viewed by clicking here
Denise had great fun last week with her trip to London to take part in a series of radio interviews. She spoke to local BBC stations from Wogan House, the new name for Broaddcasting House. She then went to ITV Studios where she was the guest on the top rated show,

Loose Women.

Denise was given the opportunity to chat about her upcoming tour and also about her stage fright - you can catch the interview on our site by clicking here
Denise will be appearing on Loose Women (ITV 1 1230pm Tuesday 21t January) She will be talking about her upcoming tour and all things Nolan! We hope you have bought your tickets for a show near you. Denise is looking forward to entertaining you and getting to meet some of you after the shows. Preperations are well under way with the tour as we write. Denise has been choosing outfits and getting the band together. It is going to be a great show. You might have noticed that all the official Nolans Websites have closed. With the exception of Denise and Anne's. The person who rand their sites and did such a sterling job for many years has decided he wanted to take things a little easier. As far as we know, Maureen has found someone to take on the mantle for her site and she should be up and running soon. In the meantime, as always, any news for all the Sisters will appear on this site - So there's no need to be starved of Nolan news!
Did you go to see the Panto's? We did and had a great time. Denise managed to see Anne, Maureeen and Linda in all their seasonal productions. As the tour approaches we cannot emphasise enough that you need to get your tickets. So many musicians and artists keep saying that live entertainment is being killed off with people not supporting it. The team on this tour have worked so hard to bring yo a magical evening of entertainment. The saying goes that if you don't use it you lose it, and nothing could be truer. Theatre is competing with Netflix and all the other giants, yet shows are not having the easiest time. Support your local theatre and support your favourite singers - wheover they are - Mainly our Denise of course!
It's no good coming to see us afterwards and saaying "Oh I forgot to get my tickets!" Use our dedicated page to book online! You won't regret it
Preparations are well under way for the upcoming Music Of Judy Garland tour. The band have been selected and the incredile Dave Bintley will once again be the musical director. Costumes have been sorted and the touor promoters are working hard to ensure that there will be plenty of promotional work undertaken. In the meantime Lee Waddingham of Red Entertainment has secured the legendary Vauxhall Tavern in London to be the launch venue of the show. This iconic gay bar has hosted some of the biggest names in the business. The venue is open to all, regardless of their sexual orientation. The Tavern is large by club standards but small enough to provide the intimacy Denise loves to create with her performances. Judy was and remains an icon amongst the gay community so it is perhaps especially fitting that the tour be launched there. The venue is offereing discounted standing room tickets and the full priced seating area includes a meet and greet with Denise herself whre you can have photographs with the leadiing lady and have items signed. This night is a night that really shouldn't be missed.
RedEntertainment who are promoting Denise's tour next year have started a Facebook group for the tour where I am sure you will see lots of updates - visit it here and hit the like button!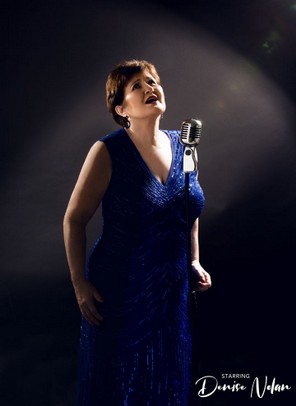 We are thrilled to announce that Denise Nolan will be touring the UK with a new production - The Music Of Judy Garland Details are released today with dates to follow. Keep checking back to this site and make sure you subscribe to our newsletter.
17th DECEMBER 2018
It's not an April's Fool Joke!
Denise has released her album "With Live Orchestra" - The album was originally released a few years ago, but now it is back having been remastered. the labum also has new artwork and sleeve notes. To obtain a copy - visit the shop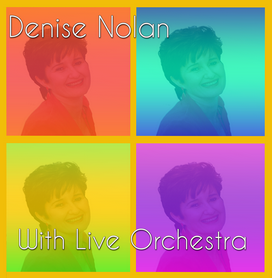 Blackpool's Viva Cabaret Venue hosted Linda Nolan's 60th Birthday party on February 23rd. Denise took to the stage and gave a storming rendition of "This Is My Life" The song earned her a well deserved stadning ovation. So thrilled were we all with the number that we decided to add it to this site and to the social media platform - You Tube.
Click here to watch on this website
The Nolans, including Denise also sang that night. All five Sisters and both Brothers sang "The Way We Were" in a specially composed version of the song to pay tribute to sadly missed Bernie who dies in 2015. The song was met with thunderous applause and a standing ovation.
17th DECEMBER 2018
Denise attended the press night of "The Wizard Of Oz" last week. She was invited along with 20 other members of the family to attend the VIP and press night for the show. Afterwards Denise was asked to film her reaction to the show which she highl recommends. Denise was complimentary about the show "The sets were so lavish and everyone worked so hard. All the performers sang really well, it was a joy to watch." Blackpool was chosen as the premiere venue for the show which has received rave reviews.
PICTURES FROM THE WIZRD OF OZ PRESS NIGHT
3rd SEPTEMBER 2018
Okay. This is long!!
I sometimes, as you know use my website to vent!!
I have often been asked why I'm not on Facebook or twitter, I feel more than justified now!! I cannot believe that there are people out there who actually passed comment on 'The Loose Women debacle this week, IN SYMPATHY WITH Kim Woodburn!!!!
It's no secret Coleen and I have had bad feelings in the past, we love each other as siblings - hopefully we have moved on from that, but to call her a bully is laughable.
She is the opposite of that and hates confrontation, and indeed BULLIES TOTALLY!!
I go in All Guns Blazing!!! Thankfully, for all, I wasn't there!!!
While Ms Woodburn, knowing she was going on the show to hopefully make peace with Coleen, turned on the waterworks within five minutes after she appeared, for all the world to see, whilst Coleen remained calm but went home that day after the show and signed off from the next one which she was supposed to be on, because she was so upset!! She cried all day, PRIVATELY!!! Far from being shouted down, Ms Woodburn never let anyone get a word in, that's why Coleen made a remark about what she and the other celebrities had put up with in CBB!! Where are Coleen's friends from that show?! SPEAK UP!!! But, I couldn't help reading some of the adverse comments from Twitter etc. I know not everyone is a Nolan fan, of course, and we are all SO grateful for the ones we have, but this goes beyond disliking our music or thinking we are untalented. That's an opinion, as valid as anyone's. Most people will never know us personally, so their comments about Linda on CBB with Jim Davidson etc were totally uncalled for and as you have not met either, speak to someone unbiased who has, before passing comment!! For the record I worked several times with the 'Sainted Jim' all I will say is, it was a very unpleasant experience!!! He should have won an Oscar for his performance on CBB, and must be grateful for the way he was filmed. Friends in high places methinks!!! I feel sorry for genuinely well informed intelligent people on social media, But, I also feel sad for people who actually watched 'Loose Women' (or did they?) and actually felt Kim Woodburn was Bullied??!!! Are they really that gullible??!!
There was only one person doing the bullying and that was the Lady in question!!! If she has emotional or mental problems she should not have been invited on there, (Coleen, knowing Kim, pleaded with the producers to NOT have her on the show, to no avail). If she did it for the money, and it was all planned, then, that's up to her and her conscience!! In my opinion, if that is the case she behaved abominably and I would have said so, no matter who it was. I wish I had a pound for everyone I know in showbiz or otherwise who has had a tough childhood.They got help when they could, and worked it out without bringing it up every time they could!! (to gain public sympathy.) Or indeed tried to help others who were going through the same thing, THIS WAS NOT the way!!! She openly bullied the lovely Linda Robson and practically assaulted her removing her arm so forcefully!! I watched the very warm and nice Aggie on a reality TV show recently. (Again I don't know her, it's just the way she came across, in my opinion, totally different to Kim). I had read the cleaning show they did together finished because Aggie and Kim just didn't get on??
After seeing both of them, I have to say, I know who I'd believe was the difficult one!!. Aggie and the whole team in that show finished up as good friends.The same cannot be said for Kim in CBB. Very few liked her, or was I again watching a different show and they were ALL bullies? I think not. Speaking of talent, which she and her supporters keep bringing up. Is cleaning a talent? I know someone who did a play with her recently and she was sacked as she was so bad!! I know, that's cruel, and I wouldn't mention it, as, unlike the twitter trolls, I do have a life, but she hurt two people who are very dear to me, badly and unfairly, so I feel justified!!! Unfortunately, she achieved what she wanted and has myself and everyone talking, so well done for that, Ms Woodburn, there are nicer ways!!!
CHRISTMAS SHOW FOR DENISE
12th AUGUST 2018 - DENISE NOLAN GUEST OF HONOUR AT BOLTON SUMMER PANTO
Denise and her Sister, Maureen and made the trip to See Anne in her Summer 2018 Panto at Bolton. After the show she went backstage to meet the cast and company and had a great time. Linda also went to see the show as a guest with the webmaster of this site. All the family have enjoyed seeing Anne is this wonderful production. In the picture she is joined by the show's Fleshcreep - Stephen Sullivan
CHRISTMAS SHOW FOR DENISE
DENISE NOLAN HEADS TO FLEETWOOD AT CHRISTMAS TIME
Denise will be starring in the Rat Pack Christmas show at Fleedwood's Marine Hall Theatre. The show has been selling very quickly. At present there is less than 100 seats left. So get in quickly and book. The Rat Pack Tribute show pays tribute to the works of Frank Sinatra, Sammy Davis Jr and Dean Martin. Denise's own part will see her salute Judy Garland. She has been working hard for the part and is set to sing the Christmas favourite "Have Yourself A Merry Little Christmas". The enue is using table seating to ensure an intimate setting. Tickets are just £18. Tables of ten receive a discount of £2 per person. We hope to see you at the show. Denise decided not to do Panto this year.
ANOTHER FIRST FOR OUR SITE!
We are never far away from technology on this site! We were the first Nolans site to offer both a mobile website and a desktop site. This was a pretty good way for users to choose the amount of data they were using. Now we are first AGAIN among Nolans sites iin bringing you a fully responsive site. This means that whatever device you are viewing the site with, be it a mobile smartphone, a tablet, PC or laptop - this site will automatically work out itself and change accordingly. Whilst you may see all the relevant information on a phone - we always recommend that you view the site on a tablet or larger screen to enjoy the graphics in their fullest way. In any case, we are delighted that you are able to enjoy the site more. We have also had a redesign of the interface. The gold and yellow site was not so friendly on smaller devices. The new red and black, we feel, works better - and it looks hot!!
NEW FACEBOOK GROUP FOR ORIGINAL FAN CLUB MEMBERS
FACEBOOK NOLANS ORIGINAL FAN CLUB GROUP
FACEBOOK is not a place that Denise is familiar with, apart from the fact that more than once people have tried to be her on it, she feels that she is aready hooked on other Social Media. But the Webmaster here has been inundated with messages from fan club members of yesteryear. So we decided to give a uniques group a chance. Now - if you are one of the ORIGINAL fan club members. This means up to when Poppy Stephenson relinquished her role, then we would LOVE to welcome you. Poppy is one of the groups regulars and we have all been having a ball - You don't need to prove that you were a member, but it would help if you were. The young fans seem to have their groups and us oldies felt that we wanted a place where we could hang out! We have tons of videos(That you won't see anywhere else) loads of chats and comment. If you go to Facebook (registration required) and search The Nolans Orginal Fan Club Members - Request to join and we will see you there!! (Opens in a new window) You can go directly to the group by clicking the Facebook logo below.

NEW BERNIE NOLAN MICROSITE LAUNCH
BERNIE MICROSITE LAUNCHED
Today we launch the Bernie Nolan mirco site. The site, within this site, is designed to pay tribute to Bernie's career and life. To make the microsite more interesting we have made an interactive time line of her professional career. You simply click a year and a pop up will show you a snapshot of that year in her life. The pop ups are colourful and time relative with their design. We felt that it would be more interesting and fun to have pictures and graphics rather than just a load of words in a row next to a year. As well as that feature we have a gallery of her professional life with a couple of pictures from her personal life too - there's almost a hundred pictures on the slideshow - so make sure you are in a wi - fi area!! Finally we have Denise's own tribute in words to Bernie. we hope you enjoy the microsite - We have enjoyed making it - Keeping our site the best place around!!
DENISE NOLAN - SOHO GIG REVIEW & PICTURES
Denise Nolan made her Soho debut on Monday of this week at the prestigious Jazz Club on London's Dean Street. The concert saw Denise reprise her critcally acclaimed Magic Of Judy Garland Show, a show that Denise hasn't produced for thirteen months. Denise is known for stage fright and that can't have been easy knowing that the venue was a total sell out. Nolan fans, friends, family and jazz devotees made up the crowd. I don't llike stereotypes but Nolan and Garland put together usually means a gay crowd too. Denise used her seven piece 'Rainbow Orhcestra' who played the Overture with great skill. Denise's own two hour show was simply stunning. Up tempo songs given the full throttle and gentle ballads received a tenderness that was well suited to the solo piano accompaniment of Musical Director Dave Bintley. The orchestra played exceptionally well. The sound would have been improved had the piano had more volume. But from the audience's point of view, none of that mattered. Nerves were on display with her patter when her microphone was visibly shaking. This was not on display one bit when she sang though! A potted biography, peppered with jokes filled in several of the mumbers, giving us a little knowledge of Garland and Denise a chance to catch her breath. The show itself features the original score from Garland's 1961 Carnegie Hall Concert, which is regarded by many as the greatest concert performance of all time at that illustrious venue. Although Denise sings the same songs from the Carnegie Hall show, she is not trying to impersonate Garland. She sings in her own style which is impressive to say the least. The applause thoughout the evening was spontaneous and she was greeted with real enthusiasm by the crowd. Denise took time to mention several of her friends and family in the audience. Even well known fans were not excluded. This made the concert seem even more intimate. The audience actually mixed well with each other and at the interval their seemed to be a social gathering feel about the event. Highlights included 'The Man That Got Away' and 'Somewhere Over The Rainbow' But the show stopper was the moment when Denise called her elder Sister, Anne, on to the stage. Together they performed a medley of 'Get Happy' and 'Happy Days Are Here Again' which is sung in counter melody. Which, for those who don't know, is two different songs, sung together at the same time. The audience did not have to be asked - they jumped to their feet and cheered at this reunion of two of the original Nolan Sisters. Some of the audience broke into an impromptu version of 'I'm in the mood for dancing' Although slightly inappropriate, given that it was a jazz club, it does show the affection that fans have for the Sisters. At the end of her barn storming show the audience rose to its feet in unison. Denise did not even manage to exit the stage before being brought back for her encore. Denise sang like I have not heard her sing for years. I later commented to her that "You were on fire tonight Den" this was not sycophany - this was my genuine feeling. Denise does far too few of htese concerts. But if she is doing one in your area - make sure you go to see it. You won't regret it.
DENISE MOBILE WEBSITE LAUNCHED
DENISE NOLAN MOBILE WEBSITE LAUNCH
We have decided to launch a mobile site because it has been reported that since 2015 more than 50% of internet users access the web solely by mobile or tablet. A full desktop site uses much more data and people with phones who use the site will find that visitiing it can eat into their monthly allowance. Photo and video are particularly greedy! Of course, we have no intention of closing the desktop site down. They will run intandom. Thus, we can offer users a better choice. Users on the move will now be able to get the basic information such as news, biographies and Den's blog much easier. The domain name wll remain the same and a simple click once there will direct users to the main site. Denise is delighted that her site will be the first Nolans site to offer this dual service. She feels that her web site is "Hers" and she knows that whatever goes into it is the only place she can give her voice without editing! She hopes yoou enjoy this new, exiting venture.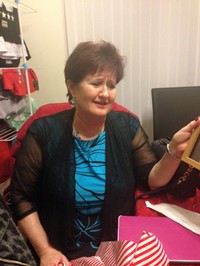 Denise - Coming to terms with technology!
DENISE TO STAR IN LONDON'S SOHO WITH HER "MAGIC OF JUDY GARLAND" SHOW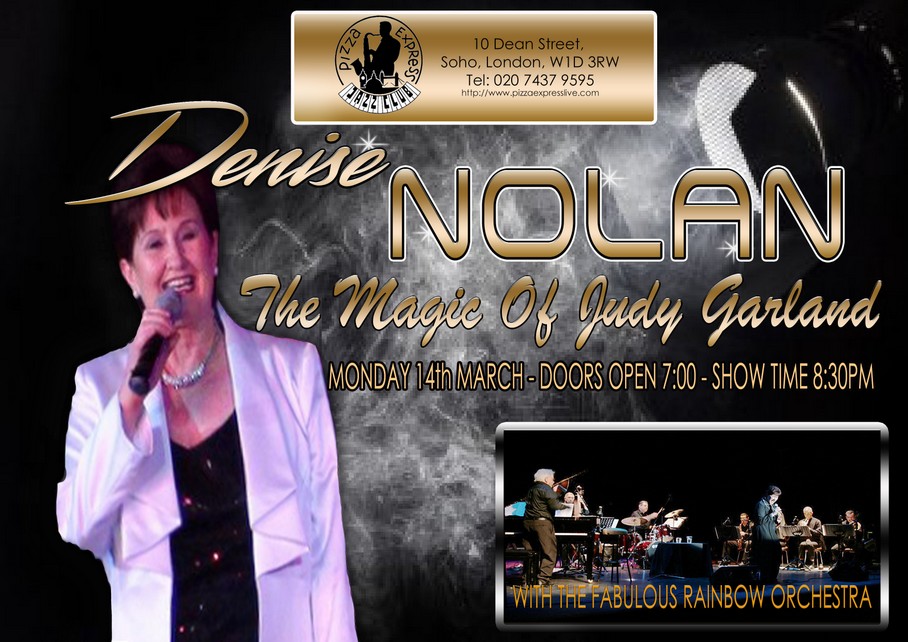 ress Jazz Club on Dean Street, London. To be taken to the venue's own website with online
0845 6027 017
DENISE ATTENDS SHOWBUSINESS FRIENDS' FUNERAL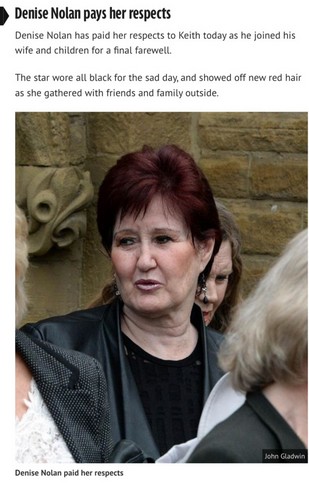 Denise, along with
Family, friends and fans have paid tribute to ventriloquist Keith Harris, who was remembered at his funeral as "a truly, thoroughly decent man".
The popular children's entertainer took centre stage at the service rather than his puppet duck, Orville, who brought him fame in the 1980s.
At the height of his popularity, he was a regular on Saturday night television and put on private performances at the third birthday parties of Prince William and his brother Harry at the request of Princess Diana. Denise worked wih Keith on mny occasions, incluing a Summer Season in Ayr and several pantomimes. Denise recals with fondness, saying.
"He was a total pro. A very good act that his audience adored. I know he had a troubled patch but he has been on top form for years. His loss is a great loss to showbusiness."
Several of his contmporaries attended the service at Sacred Heart Church in Blackpool, including Frddie "Parrot Face" Davis, Jimmy Cricket, Bobby Crushand Coronation Street Star, Ken Morley. Several fans attended and floral tributes came from many showbiz names including
Little Britain star Matt Lucas who wrote: "Thinking of you and your family", while the Nolan family wrote: "Some people need no memorial, but a world made better by their lives. For Keith, a great pro, fantastic talent, a lovely man who will sorely missed. It was a pleasure to have known and worked with you." Keith died in April this year.
DENISE SUPPORTS EASTERLEIGH ANIMAL SANCTUARY CAMPAIGN
Denise, and two of her Sisters, Anne and Maureen, have pledged their support to save a threatened animal sanctuary. The Easterligh Sanctuary faces a bleak future and will soon have to leave it's site in St. Annes following a row over the tenancy. Despite a huge fund-raising drive to generate cash to buy a new HQ, the centre is still £80,000 short of its target – and faces a final court hearing next month to decide its future on the land on which it currently stands. Around 50 animals, including cats, dogs and horses, face having no home while 16 staff look set to lose their jobs if the centre closes. Now Blackpool-based singing stars the Nolan sisters and comedian Roy Chubby Brown have lent their voices to the fight to save the centre. Denise Nolan said: "We are sure that Easterleigh's plight will resonate with many people and they will be sympathetic to it but they really do need a miracle here.

"It is very easy for us to forget in our ever increasingly busy lives but we are really asking the local community to step up and try and help to save Easterleigh; an impressive, inspiring and something to proud of here on the Fylde coast.
The founder Mandy Leigh and the team behind the sanctuary have dedicated their lives to this cause and made many sacrifices over the years. It simply must go on. Sister Maureen added: "We are all animal lovers. Both myself and Linda have dogs and Coleen also has horses and we will certainly be doing our bit to try and save this place.
Roy said: "Easterleigh's efforts over the last 20-plus years have been unrivalled in the area – there is simply no other sanctuary locally who can take in all these unwanted, abandoned and neglected animals. "Due to the unfortunate circumstances that the sanctuary now faces, they are turning away dozens of animals each day. I

sincerely hope that they can find new premises to avoid the very sad day that is fast approaching should they be forced to close.

Come on, everyone, please get your thinking caps on. Let's pull together and keep this amazing place going."
The founder of the charity, Mandy Leigh, said she has been forced to put her home up for sale in a bid to generate cash to buy a new sanctuary – but estimates she is still tens of thousands short of the amount she needs. Mrs Leigh said she has been astonished by the response to the sanctuary's plight – but revealed it now faces a "gloomy" future.
She added: "I do not know how long we have. It's very difficult. We want to stay in this area. There is nowhere else. It is looking gloomy. I can't complain about the money we have received and want to thank everyone for their donations – but it could be four weeks before we are out of business."
It is understood the land where Easterleigh is based, off Queensway, was bought for a five-figure sum at Christmas. Mrs Leigh added: "I have been really delighted by the support from the Nolans and Chubby Brown.

We did not contact them, but they found out about our plight through social media and our supporters all over the country.

We are due in court on June 3 and I think we will be lucky to have more than a few weeks left.

We are not taking any more animals at present but I will have to find homes for nine horses, 19 dogs, nine cats, four rabbits and three pigs.

Once we are gone, there will be nowhere to take unwanted pets or animals in need of re-homing. It is a desperate situation."
LOVE TRANSFORMATION TV ADVERT (AGAIN)
THE NOLAN SISTERS SINGLE FOR DULUX VIDEO - AGAIN!!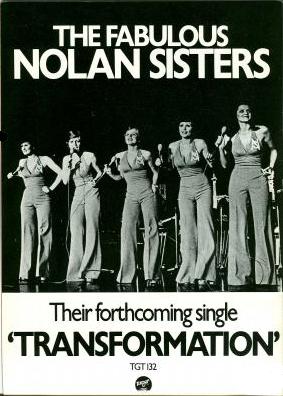 The Nolan Sisters originally released "Love Transformation" in 1977 as a single. The song, with Denise singing on lead vocals, was initially used anonymously as the soundtrack for a Dulux TV Advertisement. Although not a commercial hit the song did sell fairly well compared to other Target Singles. It has now reappeared as part of a Video promoting Dulux Paint once more.
REWORKING OF THE 1977 TV ADVERT
PANTO CAST MEET VIP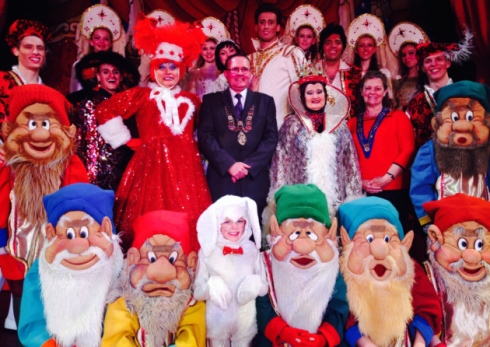 The town's new Mayor, Stephen Ardley, made a special visit with his wife Maria to watch this year's Pantomime at the Marina Theatre on Saturday night before heading backstage after the performance to meet some of the cast.
The mayor said: "The show is absolutely fabulous, colourful, funny, packed with audience participation and some wonderful music. We have had a fabulous time and with such a talented cast I can see why the show is already breaking box office records."

After the show the Mayor met some of the principle cast members, including Blood Brothers star Denise Nolan – who is playing the Wicked Queen – Snow White, played by Georgia Phillips, and Jon Moses, who stars as the Prince.
A spokesman for the panto added: "The cast were delighted to welcome the mayor of Lowestoft on Saturday evening and pleased that he and the mayoress took the time to come backstage after the show and thank everyone for their efforts."

The show runs until Saturday January 3rd.
PANTO LAUNCH AND MEET THE PUBLIC
The freezing Lowestoft weather didn't dampen the enthusiasm of the crowds or the mood of the cast of this year's Panto for the 'Meet the public' event, held outside the Town's Marina Theatre. Publicity manager at the theatre, Karen, told us that the show was "fab" she went on to tell us that so far the show was up 24% on last year. "The people of Lowestoft tend to be later with their bookings, they usually wait for reviews and word of mouth before they book, so I know that this show is going to smash all records if we are already 24% up" she claimed. Denise told us that she had taken her script with her on a recent trip to America and that she knew her part well. The show has many dance numbers and Denise has had to learn the choreography for four numbers. "I haven't had this many routines to learn for years" she informed us. "I am nervous, of course, dance routines are not normally my forte!". However we know Denise is showing her customary modesty. Co star Jon Moses wrote on Twitter last week "Denise Nolan is the PERFECT Queen"
NEW WEBSITE LAUNCH
Denise Nolan launches her new look website this week. The new look site is timed to match the launch of this year's panto season. The webmaster of this site tries to ensure that Denise's site is kept up to date, accurate and keeps up with trends. Every year we design a completely new site for Denise using the very latest styles and designs. We believe there is no better source for information about Denise anywhere. We are also happy with the success of our website's biography section which has been used extensively throughout the web. One of Denise's favourite colours is purple and that is reflected in her site. We do hope you like the new look and that you continue to support us and Denise. Thank you for the many many e-mails and letter we receive. It's always great to hear drom you all.
DENISE ANNOUNCES PANTO!
This year see Denise heading to Lowestoft to top the bill in pantomime. This year she reprises her role as the Wicked Queen in 'Snow White & the Seven Dwarfs' . The show sees an impressive line up. Performing alongside Denise will be
ITV Superstar finalist, Jon Moses and Britain's Got Talent impressionist, Philip Green.

The panto will be produced by Paul Holman Associates - The award winning team behind last year's record breaking 'Cinderella', and it will run at the town's Marina Theatre from December 16 to January 3.

Paul Holman Associates said in their recent press release "Having shared the stage with Frank Sinatra, performed Christmas specials with the Two Ronnies and Morecambe and Wise, sung with Tom Jones, Stevie Wonder and Engelbert Humperdink, glamour, glitter and an evil serving of wickedness are promised as Denise Nolan is set to leave audiences spellbound with her portrayal of the ultimate pantomime diva as she stars as the Wicked Queen in the fairest pantomime of them all.


Pantomime producer Paul Holman, for Paul Holman Associates, said:


"The family singing dynasty, The Nolans, is known Worldwide and I'm delighted Denise is sharing her Wicked Queen with my home-town audience in a pantomime which promises to deliver all the winning ingredients people have come to expect and deserve; epic portions of comedy capers and audience participation, chart, chart-topping tunes with classic family favourites so everyone can have a toe-tapping, hand-clapping experience, fairy-tale scenery, creative costumes and of course, seven dwarfs full of mischief and merriment!"

Denise's first steps into panto land saw her starring as the sweet and fair Snow White, not once but fifteen times, culminating in a hugely successful season at the London Palladium before hanging up Snow White's dress and waving the wand of Fairy Godmother or casting a spell as Wicked Queen, in more recent years.

She took the West End by storm with her portrayal of Mrs Johnston in Willy Russell and Bill Kenwright's hit musical 'Blood Brothers', before touring with the production for four years. Her successful Judy Garland Show, in which she uses all the original music and orchestration from the Judy Garland show at Carnegie Hall, has played in all the major concert halls in the UK to great critical acclaim and of course, everyone remembers Denise from her success with her sisters in The Nolans.

Playing the part of the perfect pantomime Prince, Jon Moses first came to public attention in Andrew Lloyd-Webber's TV search to find a Jesus for his arena tour of his box-office smash, Jesus Christ Superstar. He sang his way into peoples' hearts as his journey from his roots in Northumberland through to Lord Webber's boot camp and live finals was played out nightly to millions of ITV viewers. The charming and charismatic singer went on to impress judges and the public and since then then he has won a legion of fans across the country with his amazing vocals and his warm, engaging and enthusiastic personality.

Joining Denise and Jon on stage will be actor and impressionist Philip Green Having made it to the semi-finals of Britain's Got Talent, Philip first started his impressions at school where he often impersonated teachers, pupils and celebrities and after three years hard study at The Arts Centre in Guildford he graduated in 2011 and took his first professional stage performance. During the Summer of 2012, Philip performed in the opening ceremony at the London Olympics before the perfect opportunity to showcase his talent to the nation in front of Simon Cowell, Alesha Dixon, Amanda Holden and David Walliams in a memorable routine which included impressions of Natalie Cassidy, Stacey Soloman and eye watering splits.

A spokesperson for the Marina Theatre added, "We are delighted to announce such a strong and talented cast for our pantomime this year, following the record-breaking success of Cinderella, we are pleased to once again be working with Paul Holman Associates and our audiences can look forward to a fantastic family show packed with great music, comedy, dance and glittering costumes when the production opens on 16 December."The comedy line-up is complimented by comedian and entertainer Rik Gaynor as Muddles with Joe Standerline as Dame Dolly Dumpling. Taking the title role of Snow White is Georgia Philips.

Following the phenomenal success of last year's production, which saw audiences rise by a record breaking 27%, tickets have been held at the same price this year with numerous discounts available for groups, schools and families available throughout the run.


For more information or to book seats, please call the Marina Box Office on 01502 533200 or go to the venue website (www.marinatheatre.co.uk).

WHAT'S ALL THE FUSS ABOUT - STOKE - OCTOBER 2014

Love is in the air as a small Irish community prepares for the wedding of Hope and Connor,but mischief is afoot as they all conspire to match reluctant lovers,Ben and Bernie,with hilarious consequences. But when the bride is tricked into writing a love letter to another man,all of their futures are threatened.


Will Connor learn the truth before its too late?
Will Ben capture the heart of his reluctant beau?
Will the father of the bride ever get a word in edgeways .........?
In 1950s Ireland there is more chance of the pope resigning!


Based on Shakespears best loved comedy, Much Ado About Nothing,come with us on a journey of Mayhem,Mischief and Misunderstanding and find out if love really does conquer all.


Featuring Iconic Hit Songs from the 50s,60,70s and 80s

This is a musical comedy night out not to be missed

DOWN AT THE OLD HIPPODROME


DENISE WILL TOP THE BILL WITH ROY HOOD IN LONDON AT
THE HIPPODROME CASINO THEATRE
Leicester Square London
in
"DOWN AT THE OLD HIPPODROME"
Thursday 1ST May 8PM Tickets £10, £15, £20


The Hippodrome is proud to host the first of many fund raising events for the GOLR. To celebrate the first event they have got together the finest performers from the world of 'Old Time Music Hall'. Its a true celebration of the colourful theatrical past of The Hippodrome.
So get your knees up and come and sing along with The Grand Order of Lady Ratlings and some very special guest performers as they celebrate 'Old Time Music Hall'.
Some of the special guests include: Denise Nolan, Roy Hudd, Jan Hunt, Bella Emberg, Sue Douglas, Bryan Burdon, Andrew Van Buren and Allyson, Joane Hall, Victoria Yellop, Steve Rawlings, Paul Rhodes, Linda Watts, Kaplan Kaye, Ken Joy, Melody Kaye, Babs Bruce, Helen Jeckels, Taryn Kaye and Debbie Flitcroft.


In aid of the GOLR Cup of Kindness Charity. Charity No 1101033



Further information about Roy can be found at his official website.
http://www.royhudd.com

NEWSPAPER / INTERNET NEWS STATEMENT FROM THE WEBMASTER
At the Denise Nolan website we have always tried to keep the site updated and correct. In the Daily Mail this week Denise was reported to have written on her site a piece detailing events in 1995. Denise never wrote the biography section on this site about the Nolans. She wrote her own autobiography on this site under the banner Denise. The Nolans biography was written by the site's webmaster. It is there as a general guide for the Nolans career. It highlights the girls achievements and documents the many highs and lows of their public life. All of the information is freely available anywhere on the web. There are no exclusives and It does not give opinions. The site is updated regularly and pieces are added and taken away if they are seen to not look right at various times. Denise Nolan has never written her input on that section of the site. She authorised the piece only. We deplored the action of Jim Davisdon on Celebrity Big Brother. It appears that the newspaper highlighted an older Biography and selected a few lines without revealing the broader context of the full biography. The full biography supports each and every one of the Nolan Sisters at every single stage of their career. It would never seek to put Linda in a bad light nor indeed ANY Of the Nolan Sisters. The details on the page are there as a matter of fact not as a news item or a headline. It seems that the piece in the press was intended to imply that Denise had decided to put pen to paper in light of Celebrity Big Brother. Denise has never herself ever spoken about the incident. It happened almost 20 years ago and would only be on her website as part of a whole story of the Nolans and NOT a couple of lines written totally out of context.

LINDA NOLAN IN THE CELEBRITY BIG BROTHER HOUSE
Denise is backing her Sister Linda to win Celebrity Big Brother 2014! In the run up to the show Family and closest friends, had to keep quiet about her entering the house. As the show progresses and housemates are given the chance to nominate each other, we at denisenolan.co.uk will be providing numbers to help keep Linda in the show. Denise said "I don't normally watch the show, but I did when Coleen was in the house and I was completely hooked. I know that Linda will do well in there. She is strong and very likeable. I am sure she will connect well with the public and other housemates. I can only dread to think what my phone bill be after the show finishes." Keep coming back to the site for comment from Denise. Visit the show's website by clicking here
ENTERING THE HOUSE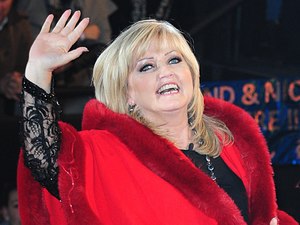 NOVEMBER SHOW IN TUMBRIDGE WELLS CONFIRMED
*** THE GOOD OLD DAYS OF MUSIC HALL & VARIETY - A XMAS

CELEBRATION - on Tuesday 19th Nov,at 2pm,at the Tunbridge

Wells Assembly Hall theatre,tel 01892 530613

www.assemblyhalltheatre.co.uk

A wonderfull new show for all ages,taking you back to the great days of Variety entertainment,with our very special Guest singing star & recording Artist Denise Nolan. Backed by a full supporting company incl, Singers,Speciality acts, Chairman - TV's All Star Family Fortunes Funny Man - Neil Hurst, Live band,Uke speciality act - Mark Walsh from BBC Radio 2's "Friday Night Is Music Night."

This is an early Xmas treat show not to be missed, brought to you by the Award Winning Mark Andrews Productions. Why not bring along a group party booking? and join in with all the fun !!

Box Office 01892530613 Visit the company website here
DENISE TO STAR IN WORTHING CONCERT LINE UP
The Charity Gala "Shine Bright Like a Diamond" at the Pavilion Theatre Worthing on Sunday the 20th October 2013 in support of St Barnabas House which is a local charity based in Worthing.
Although it is early in terms of casting we have secured Denise Nolan of The Nolan Sister,s Rising star of the blockbuster film Les Misérables Isabelle Allen, Olympic Ice Skating Champion Robin Cousins, Soap legend June Brown from EastEnders, 'Rocky Horror' legend and worldwide cult figure! Patricia Quinn, Comedy Impressionist Philip Green (Britain's Got Talent), Coronation Street & Dancing On Ice Star Danny Young, actor, singer & presenter Darren Day, actress Kacey Barnfield, TV and film icon Fenella Fielding, TV actress Gwyneth Powell, Sarah Jayne Buckley from Hollyoaks, actor Roman Kemp, the fabulous Ceri Dupree (International Female Impersonator) Jamie Pugh (Britain's Got Talent) from platinum selling group & X Factor finalists "G4" - Mike Christie, the incredible voice of Rickie Arthur as Michael Bublé, Jeff Stevenson (International Comedian), Ben Wilby from feature films Nativity & Nativity 2, West End singing star Leo Andrew, Jaydon Vijn (Matilda - the musical), bright new talent Scott Waugh, The West End Gospel Choir, The Folly Mixtures - 'London's electrifying burlesque troupe', Brighton Gay Men's Chorus, The Hertfordshire Showband, Flamenco Echoes, The Ace Academy of Irish Dance, The Circus Project, The Theatre Workshop, Students from Redroofs Theatre School and many more to be announced.
Guest of honour will be the legendary actor and star of Oliver! Ron Moody.
Denise Joins The Grand Order Of Lady Ratlings
We are thrilled to announce that Denise will be joining the Grand Order of Ratlings in the near future. The Order, the female arm of the Grand Order Of Rats is a charitable organisation that has been in existence for more than a hundred years. The charity aims to assist members of the theatrical profession, or their dependents, who are in need. The Order has a Queen rat and Princesses. Other members are known as Ratlings. Denise was invited to join by her long standing friend Efie Star, who many Nolan fans will remember starred alongside Denise in her first Panto in Hull in 1980. Other notable Ratlings include Barbara Windsor, Sheila Hancock, Anita Dobson and Vicki Michelle. One of the initiation rules is that the would be Ratling performs a charitable show. Last month Denise appeared at the Entertainment Artists Benevolent Fund's rest home Brinsworth House. We are sure that Denise will lend her support in every way possible to support the Order. For more info on the EABF click here and to visit the Grand Order Of Lady Ratlings visit their site here Both sites open up in new windows
Denise with Queen Ratling Jenny Maynard Tom and Efie Star
Denise celebrates with Queen Ratling
BERNIE - AN UPDATE & PRINTING ERROR CORRECTION
I would also like to thank, again, those many people who have expressed their thoughts and very best wishes for our wonderful amazing sister, Bernie. She is still very much with us.

Can I also thank the many of you who say, the one good thing in all of this sadness, , is, it brought us back together again! Unfortunately, this is a Newspaper printing error. Anne and I have been friends with Mo and Bernie for about almost three years, now, after writing all four girls a letter, saying, for the sake of the children and our wonderful extended family, we should make up. Bernie and Mo also agreed it was the adult thing to do and we are very glad to have spent a lot of time with Bernie since her first cancer went into remission. I love ALL my family and would be there for any of them if they needed me and have proved that in the past, (the row nearly drove me to a breakdown. Without Tom, Anne and family. and my lovely Aunty Teresa, plus, some very lovely cousins, I wouldn't have got through it) and never a minute goes by, when I'm not thinking of my sister, Bern and her amazing husband Steve and beloved daughter, Erin. Keep them in your thoughts. Thanks again for your amazingly kind words. Love to all, Denise. xxx
GRAHAM WALKER (THE GRUMBLEWEEDS)
Our deepest sympathies go to the family, and the many friends, especially Robin Colvill, of lovely GRAHAM WALKER , of Grumbleweeds fame. He was one of the nicest and funniest men, I've ever had the pleasure of knowing!!! I remember a karaoke night at my home and Graham was persuaded to attempt to sing YMCA. Halfway through his rendition, the lyrics disappeared and Graham had us literally on the floor with his own interpretation of the words. We'll never forget that night, OR HIM. R.I.P. you will be missed
Statement Concerning Bernie & Cancer
While, obviously we have known, as family, about Bernie's relapse, for some time, we have been moved by the messages of support she has received . It helps to know so many lovely people care. I always knew she was strong, and, as I said, whilst what happened damaged our relationship, the love never died and I am extremely glad we were friendly again before her bad news. As I said, she has always been incredibly strong,and if anyone can beat this, or at least keep this at bay for many years, it's Bernie. She doesn't want to talk about it, and will be mad at anyone showing pity. She wants to get on with her life, and we're helping her do just that. I am sure that if you would care to donate to Cancer Research on her behalf, it would be the best way of showing support. (Link on charity name). My Aunty is also fighting Skin Cancer at this time and I have a releative in my Partner's Family who is fighting pancreatic cancer who is the same age as Bernie) Cancer in any form is a scourge on humanity, and the sooner it becomes no worse than the common cold, the better. Let's hope it's in Bernie's lifetime. I have been asked repeatedly about the family fued, and I reiterate that we are over the hurt and moving on with our lives are now talking with Mo and Bern. Anne and I sent a letter to all four girls more than a year ago. (Believe me, it wasn't easy) We felt the mature thing to do was to start talking again. We will always love them, you can't switch that off. It nearly destroyed us! We also love our nieces and nephews, and we are very close to our cousins. We felt they were all piggy in the middle when it came to family occasions, they didn't know who to invite, who to leave out. That was the main reason for the letter, not hypocricy, but unselfishness! The two more mature members of the four, Mo and Bernie, were happy to start talking again, and consequently, while I think we all know, it will take a long time, if ever, for us to get back to the closeness and loyalty we had, at least now, those we love are not caught in the crossfire. Coleen and Linda chose not to reply to the letter and that is entirely up to them.
BROXBOURNE PANTO LAUNCH
The actors in Snow White and the Seven Dwarfs gathered together for the first time at the Hoddesdon venue yesterday, where they also donned the costumes of their characters. Denise, who previously appeared in the Civic's previous production of Snow White in 2007, will once again feature as the Wicked Queen. She said: "I find it very difficult to be mean and I hate frightening the kids, but I've probably had the best reviews for this role."I've played Snow White in 15 pantos and then I decided I was more like her mother."
August 1st 2012
DENISE IS BACK TO BROXBOURNE FOR PANTO 2012/13


We can confirm Denise will be in Broxbourne this year - dates to follow. You can see from today's picture. That Denise will star as the evil Queen in Snow White. Lee Waddingham from Paul Holman Associates is pictured with Denise during the costume fitting. Denise will be working with X Factor star John Wilding and BBC3's Prankser Ross Lee. Denise is a massive X Factor fan and is thrilled to be working with Joh. She said that he has "An AMAZING voice and is so handsome." Denise is also a huge fan of Panto with this show being her 28th. Denise is also delighted to be working with Paul Holamn Associates. This is her 8th Panto with them. She says "Paul and Lee treat everyone as individuals they look after you throughout the entire run. It's good knowing that there is a friendly voice in the office should I need to call them. They are always such lovely pantos too, with gorgeous costumes. I love Christmas and what is more Seasonal than Panto!"


Who's this with Lee Waddingham?