Born on February 23rd 1959, Linda has packed a lot into her professional life. Her career has seen her embrace TV, Cabaret, Concert, Pantomime and Stage Musicals. She began singing aged just five. Working with the Family singing act "The Singing Nolans". The five eldest Sisters formed the 'The Nolan Sisters in 1974. Along with Anne, Maureen, Bernie and Denise she went on to achieve stardom with hit records, tours and TV appearances. Perhaps the pinnacle of that stage in her career was to appear on tour with Frank Sinatra. Linda left the Nolans in 1983 and quickly joined Gene Pitney as his special guest in his 1984 UK tour. Her first TV appearance as a solo artist was on the Des O'Connor show where she performed the song "Dancing In The Street". She went on to star in Pantomime in Coventry later that year. She has since gone on to become a panto veteran. Highlights of her career include Theatre Tours with Vic Reeves and Bob Mortimer in 'Shooting Stars' as well as touring with Mike Yarwood, Cannon & Ball, Little & Large & The Grumbleweeds. She joined Bobby Crush on the 'Back To Bacharach' tour. Her first venture into musical theatre came when she played Prudie Cupp in 'Pump Boys & Dinettes' with Rose Marie. Two UK tours of 'Prisoner Cell block H - The Musical' with Lily Savage (Paul O'Grady) followed.
The eighties and nineties and Blackpool became synonymous for her when she starred in her own headline show ' Maggie May' on the town's Central Pier for eight years, before transferring the show to the South Pier for a further two years in the renamed "Rosie O'Grady's All Star Music Show'. Having completed more than a thousand concerts in the two roles she went on to cabaret for the following year at a Working Man's Club. Just a short time later, Linda successfully auditioned for the lead role in Willy Russell's acclaimed musical 'Blood Brothers'. She toured in the production and appeared in London's West End for eight years. Linda was diagnosed with Breast Cancer in 2006 and bravely continued with the show until ill health forced her out of the production. She was widowed in 2008 and there followed a long period of depression. She contacted The Samaritans organisation who helped her through the difficult time and has since gone on to become an ambassador for the charity as well as fostering children. The Nolans reformed in 2009 for controvertial, sell out concert tour, a CD and a DVD was released. Two of her Sisters were left out of the tour and a family argument resulted. The fall out from the row lasted for several years before it was resolved. In 2014 Linda entered The Celebrity Big Brother House. Her stay in the house was marred with arguments she had with an old adversary, Jim Davidson. She became the fifth celebrity to be evicted. from the house. Despite her eviction she was never nominated for eviction by other housemates, who had nicknamed her "Mamma Lin." She later commented that she loved her time in the house and would return 'in a heartbeat'. She lamented that she had been seen as a "Moaning old bag." but had, in fact, been part of a much happier environment which had not been shown on TV. Linda joined the cast of of 'Menopause The Musical'. Initially touring Ireland in 2015 and then on another tour the following year. The show transferred to the UK the following year. She was cast as 'Soap Star'. The show plays to packed houses nightly with parodies of well know pop songs. The lyrics were adapted to cover aspects of the menopause such a hot sweats tears, mood swings and tempers. In 2016 she joined 'Rumpy Pumpy' a UK musical based on the true story of 2 Women's Institute members who campaigned for better working conditions for sex workers. Linda played Madame Holly Sp
encer, the brothel owner. She show had a short run which she enjoyed immensly. Linda then starred in her annual Pantomime, this time at Preston Guild Hall as the Fairy in 'Jack and The Beanstalk' Linda has appeared in more than 20 professional Pantos and loves the role. In 2017 Linda was set to star in 'Our House The Musical'. This show covers the music of 80's favourites 'Madness'. Sadly her cancer was found to have returned following an accident at home. Tests confirmed that the cancer was incurable, although it it treatable. She has been filming for TV shows and has other work lined up outside her normal touring work. Check out our site for news that arises. Her Autobiography 'From My Heart' was released in March 2018. Linda had to withdraw from ITV's My Shirley Valentine Summer, which was disappointing for her. But she was soon back on our screens when she began appearing as a regular on the Loose Women panel in Summer 2018. Her cancer prognosis is looking bright as she undergoes regular scans, the cancer seems contained. In June 2019 Linda appeared on the Jeremy Vine show as a guest panelist. Look out for her on the show in the future. As soon as Linda finished her 2019/20 Pantomime in Clacton she had meetings with Anne, Maureen and Coleen with Quest Red TV where the four Sisters signed contracts for an eight week reality TV show filmed on board one of the biggest cruise liners in the world. The series began filming in late February and features the Nolans as they travel the Mediterranean over two cruises. The show will premiere in Summer 2020. As soon as she returns from filming she will begin rehearsals for a major UK tour of the brand new musical 'Girls Just Wanna Have Fun' The three month tour covers most of the country and is already selling exceptionally well. Sadly the show has been postponed due to the national Corona Virus lockdown. As soon as the show is rescheduled we will let you know. Along with her Sisters, Linda appeared on "All Round To Mrs. Browns" in April.
2020 was also to be a much publicised year for the Nolans, some of it in sadness. Linda had come to terms with her cancer diagnosis and explained that she was living with cancer and not dying from it. As the country went into the Covid lockdown the Sisters heard that a BBC record label were releasing a three disc compilation box set that would feature songs from their UK albums from 1978-1983. For the first time all six sisters would appear on the front cover of a general album release. As the sisters basked in the good news they were rocked when Anne told them that she had found a lump on her breast, twenty years after battling and beating cancer before - Anne was stunned to find that her cancer had returned. The cancer was stage three and agressive. The news was not good. Doctors told her that the cancer was a new type that they were not familiar with. Medics decided to attack the growth with everything available. Whilst doctors worked out a treatment plan for Anne, Linda heard following one of her regular scans that her cancer had spread to her liver. She was told that the cancer was small and that it could be treated. She too would undergo chemotherapy.
Linda would follow Anne three weeks later. Staff at the Blackpool Victoria Hospital arranged for the two sisters to be treated simultaneously which came as a great comfort as the Covid restrictions meant that they would not be allowed to have other people with them in the hospital. At least they had each other. Linda opted for a cold cap in an effort to retain her hair. Sadly the staff were unable to locate one in her size and she lost her hair. For Linda this was a devastating loss. Her own demons brought on a bout of depression for which she reeived councelling. Linda was aware that her own cancer is not curable and fears that in time she could have to face more struggles. Her own treatment was not as aggresive and she was able to take part in press and TV interviews, unlike Anne who was far too weak. The success of the TV show 'The Nolans Go Cruising' was a blessing and a curse. The TV company were naturally anxious as the show was marketed as a feel good show. To have such negative news prior to its launch might prove counter productive. The girls agreed and decided to not speak publically about their recent diagnosis. However, as their treatment was being carried out in a public hospital and thier hair loss was evident it was doubtful that the secret would remain indefinately. Fortunately the public respected their privacy and the news didn't break before Anne and Linda told their story. The high profile interview was aimed at raising awareness about breast cancer. Anne and Linda displayed great courage and humour in telling their story. They refused to wear wigs that they had purchased becuase they wanted the public to be aware. The Nolan Sisters have all spoken out about the disease. By doing so it might help more women to check themselves and seek treatment
. During the lockdown period Anne and Linda wrote a book about their cancer diagnosis and treatment. The book went on to top the Amazon chart.
Linda was surprised in September when Channel Five decided to air a programme that she had filmed three years prior. Celebrities In Therapy was shown as an hour long episode. All the Sisters took part in filming a new show that will appear late in 2020. Filming for another major project is set to start in late October and will feature Anne, Linda, Maureen, Coleen and Denise.
Linda released her own brand of Gin in 2021. Hudson's Gin - named in honour of her married name and her late husband, Brian. The Gin went on to become the largest every celebrity spirit launch in the UK. You can purchase the drink here. With the Nolans Gold entering the top ten in 2021 the Nolans enjoyed continuing success. The Covid 19 restrictions saw Linda's musical 'Girls Just Wanna Have Fun' was delayed. Her cancer treatment left Linda with no alternative but to cancel her appearance. She recommended that Sister, Maureen take over the part. In Summer 2021 Linda, with her Sisters filmed the second series of the Nolans Go Cruising. The show was filmed around the British Isles and aired in September and October. Linda closes 2021 with optimism for the future. Her health remains good and she is enjoying spending time with her family and friends. Despite the sometimes burdonsome nature of her treatment Linda has been able to take part in campaigns instigated by the sun newspaper for recycling facemasks and also along with Denise for encouraging people to have their flu jabs. Linda was able to take part in promotion for her book and her own Gin which has proven to be a runaway success. It was revealed in the latest TV series that Linda was co operating with Maureen to launch a new make up range, aimed at more mature women. 2021 was rounded off nicely when Linda along with her other sisters were presented with 'Legends of the Industry' awards. The awards came from the Variety Club of Great Britain, which is a children's charity supported by entertainers. To be awarded such an acolade by show business contemporaries was a fitting tribute to Linda's sixty years as an entertainer.
LATEST LINDA NEWS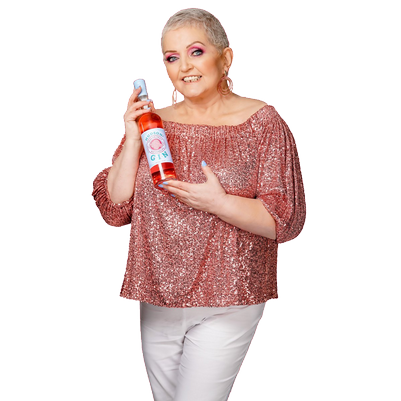 Linda, as most of you know, released her own brand of Gin in 2020. Within days of its release the product had sold out. The second batch also sold out quickly. To purchase her delicious Watermelon and Passionfruit Gin, visit Linda's gin website
here
LINDA'S APPEARANCE ON GOOD MORNING BRITAIN - AUGUST 5th 2020
NEWS FROM LINDA
ARCHIVE NEWS FROM LINDA BELOW
NEW BOOK FROM ANNE & LINDA

The news that Linda' cancer has spread was revealed exclusively in the Sun newspaper on 3rd August 2020. You can read the full interview here. Linda is currently undergoing treatment and we are confident that she will be back on track in a very short time.
Picture credit Dan Charity: The Sun
THE NOLANS GO CRUISING - QUEST RED TV - TUESDAYS 10PM
The Nolans: Go Crusing has been a smash hit for Quest Red TV. With the show receiving some of the highest ratings the channel has ever had. The show follows the Nolan sisters Coleen, Linda, Maureen and Anne as they go on their first shared trip and first singing reunion in decades.
The sisters will embark on two cruises around the Mediterranean onboard the MSC Grandiosa and across the eight-episode series they will prepare to perform their hit single I'm In The Mood For Dancing on their final night on the ship in front of their fellow passengers.
The ladies bond over visits to beautiful cities and towns, enjoy the luxury treatment on board one of the biggest Cruise ships in the world, while preparing for a grand finale reunion show on the ship.
The series will explore themes of loss, finding love in middle age and the strength of female friendships.
They will also address issues such as Linda's fight with incurable breast cancer, low self-esteem, and what single life in middle age means for them.
The Nolans: In The Mood For Cruising is the sisters' first TV show and singing reunion together in decades.
Ahead of the show, Coleen said: "The four of us are so excited to go on this trip; there are things that we all want to tick off our bucket lists, and this is definitely one of them!
"We want to give Linda the trip and performance of a lifetime!"
Linda added: "This trip is going to be a riot and I cannot wait.
Also we get to perform together again, and with Anne, and that will be very special."
The news comes after
Coleen Nolan
admitted her "libido is dead" after making the candid confession that she hasn't had sex for years, in an exclusive interview with Mirror Online.
The singer and Loose Women star, 54, divorced second husband Ray Fensome in 2018, saying the "emotional and physical connection" had gone from their relationship.
Coleen hasn't ruled out finding love once more, but says she'll never get married again.
F
rom the writers of the hit comedy Hormonal Housewives, Girls Just Wanna Have Fun is the brand-new musical comedy show that does exactly what it says on the tin.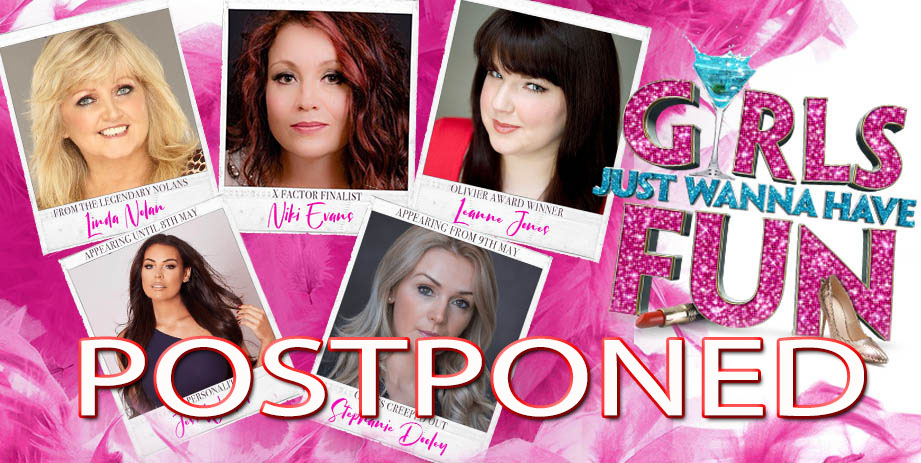 AS SOON AS THIS SHOW IS RESCHEDULED WE WILL AMEND THE TOUR DATES.
Join our four refreshingly honest and unreserved girls, the Legendary Linda Nolan, X Factor Finalist Niki Evans, TV Personality Jess Wright (until 8th May), CBBC Creeped Out's Stephanie Dooley (from 9th May) and Olivier Award Winner Leanne Jones as they go on a riotous evening of laugh-out-loud sketches and classic pop anthems that define being a 21st Century woman.
We take a no-holds-barred comedy romp through everything life throws at a modern day woman, dating, relationships, breakups, fashion, dieting, chocolate, more dieting, sex, going out, staying in, wine, more wine and of course, men. All are thrown under the microscope of uproarious dissection – no subject is too taboo!
Get involved and come along to channel your inner diva because Girls Just Wanna Have Fun!
Linda launches her own brand of Gin, Hudson's, named in honour of her late husband, Brian. The first batch sold out within a couple of days, making it the best selling celebrity gin in the UK.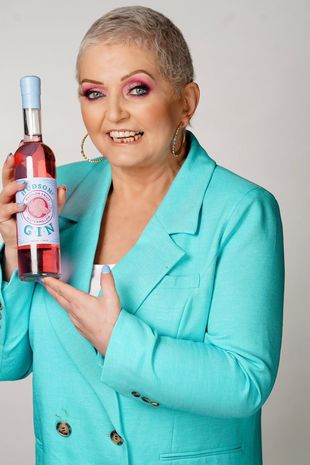 LINDA'S AUTOBIOGRAPHY AVAILABLE TO PURCHASE (CLICK COVER)
TOUR DATES AND ONLINE BOOKING
HERE
LINDA'S OFFICAL WEBSITE IS PART OF THE NEW OFFICIAL NOLANS WEBSITE - CHECK IT OUT LY CLICKING THE BANNER
LINDA'S CHARITY WORK NEWS
LINDA is a major charity contributor. Her charity work blossomed when she was diagnosed with breast cancer in the mid 2000's. She underwent a mastectomy and chemotherapy. After being given the all clear she had a breast reconstruction. It is well documented that Linda has suffered with depression which is understandable. She lost her husband to the disease and her sister Bernie passed away in 2013. She is heavily involved with the charities.
*HUG IN A BAG * ASDA'S TICKLED PINK * BREAST CANCER CARE* BLACKPOOL TRINITY HOSPICE * THE SAMARITANS * SHARON FOX CANCER CENTRE * VARIETY CLUB CHILDREN'S CHARITY.
Linda announced, via her Sister, Coleen on ITV's 'Loose Women' that her cancer had returned
.